Australia - July 2017
Oasis de Terre Rouge
We left Switzerland with a heavy 92 kg and we're leaving La Réunion with only 76 kg: we're surely improving!
Perth, Western Australia
Perth, the capital of Western Australia and the fourth-most populous city in Australia, is located on the estuary of the Swan River. Sandy beaches line its suburbs, and the huge riverside Kings Park and Botanic Garden offer sweeping views of the city. Perth is a lovely city with an easygoing character. The city's bar and restaurant scene continues to flourish, offering everything from fine dining to quirky cafes or lively bars: our preferred places are the Petition complex and the great Koko Black Chocolatier!
Perth is known for its wonderful weather in summer time but it's quite frosty in winter: we had only 6 to 10 ºC ! However, with its excellent public-transport system (bus and metro), you can wander around Perth anytime!
The most amazing impression of Perth is the harmonic architectural integration of the old historical buildings with the new dynamic business center and its skyline including unexpected touches of art : well done Perth!
Cairns, TNQ (Tropical North Queensland)
Cairns is the capital of TNQ and the most important center of tourism in the region. We flew from Perth to Cairns via Brisbane in 7 hours: it's about 6000 km i.e. far more than from Lisbon to Moscow. There is a 2h time difference between the West and East coast. Cairns is well known for its proximity to the Great Barrier Reef and also for being an excellent starting point to explore the FNQ (Far North Queensland). Cairns is a quite lively and busy city flooded by tourists. The restaurants however, are rather simple and the choice limited. It isn't a town for gourmets.
Interestingly, the flying foxes (great bats) have not left the city despite the prolific urbanization: every evening at dusk, thousands and thousands of flying foxes are leaving their trees to feed, a unique scene for the eyes and ears.
We picked up our Toyota Hilux 4WD camper in Cairns near the airport: this will be our home for the next 3 months, approx. 6 m² for kitchen, storage, living and sleeping room !!
Tablelands, TNQ
This region is characterized by glittering waterfalls and lush highland rainforest. On our way to Millaa Millaa, we stopped at Babinda Boulders, Josephine Falls (both good swimming spots), followed by Tchupala Falls, Wallicher Falls, Mungalli Falls, Ellinjaa Falls, Zillie Falls and Millaa Millaa Falls.
Thanks to the cooler climate, the constant rain (we can confirm this) and the fertile soil, this area is a paradise for cows, zebu and buffalos: this is the "Tropical Dairyland". In the heart of "Dairyland", we visited in East Barron, the Gallo Dairyland: a chocolate and cheese gourmet place. In this large farm, you can watch the actual cheese making from Gallozola to Gallostello blue, as well as the artisanal production of pralines and cheesecakes. We tested all that! It was sooo good that we filled up our campervan fridge.
In the historical town of Yungaburra, there is one of the best platypus spotting trail at Peterson Creek. Indeed, we were lucky to observe several times the shy platypus (ornithorhynchus anatinus). This amazing animal is a semi-aquatic mammal endemic to Eastern Australia that lays eggs like a bird instead of giving birth to live young.
Mareeba is a nice town and an important agricultural center, and we were surprised to learn about its multiculturalism: most inhabitants have immigrated from Italy, Scotland, Greece, Albania, Croatia and one immigrated from Ticino! The specialty of Mareeba is the production of Mango wine, worth a tasting!
At the Granite Gorge Nature Park, we made a great walk through the maze of boulders and deep holes offering spectacular scenery. It was a fantastic opportunity to get close with the wild rock wallabies in their natural habitat. Even too close with them, once they are in confidence with us, there is no limit: they are all over you ... and it can be surprisingly painful as not all of them are having regular manicure!
Port Douglas, FNQ (Far North Queensland)
Port Douglas, a city born from the gold-rush, had its life revolved around two pubs and one bakery during a century. Nowadays, the pubs and the bakery are still there but surrounded by exclusive hotels, fine dining restaurants and lounges. What a change! You even have a brewery making exquisite craft beers like the imperial IPA! An absolute must try ...
Cape Tribulation, FNQ
The "infamous" coastal route from Cape Tribulation to Wujal Wujal is still a 4WD track however it was upgraded in the last years. Still a couple of creeks to cross and very steep impressive hills to climb but nothing compared to 30 years ago when the track was a narrow strip of mud across deep rain forest and Cooktown was days away from here. Cape Tribulation was also upgraded from a simple camping location to a tourist attraction with many resorts and shops.
The Wujal Wujal Falls are definitely worth a stop.
We stopped at a secluded beach, a wonderful long stretch of yellow sand with no one or any form of development (very rare in this popular area) and we saw something … a black fin in the water ... like a shark … no, a couple of whales! Fantastico!
On the way to Cooktown, you drive through the Black Mountain NP. The mysterious Black Mountain is a spiritual site for the Kuku Yalanji aborigenes and it's an astonishing pile of black granite rocks that looks surreal.
Cooktown, FNQ
Cooktown is a small rural OZ town bringing you back in time: it seems that time stopped 30 years ago here! The bakery is probably the best place to be.
Laura, FNQ
Laura is home to the world's largest collection of prehistoric rock art, the Quinkan Rock Art sites (classified by UNESCO among the top 10 rock art sites in the world). Unfortunately, they offer only one guided tour a day and this is always over-booked for the week despite the outrageous sum to pay for a 3-hour walking tour!
The Split Rock is the only self-guided site available but the rock art there is very simple and somewhat disappointing compared to the rock art seen in Namibia.
1
Savannah Way, QLD
The Savannah Way is a route of highways and major roads across the tropical savannahs of northern Australia, linking Cairns in Queensland with Broome in Western Australia. The 3700 km route links 15 National Parks and five World Heritage areas.
We traveled on the Savannah Way for four days driving 730km from Mareeba to Karumba. On the way, we stopped in Mount Garnet, a small village with more policemen than houses and the only "police enforcement zone" of the Savannah Way! Yes, they stopped us and we had our first check. No questions, no documents only alcohol test! Of course "all good" :-)
In Georgetown we decided to go and visit the Cobbold Gorge near Forsayth (only 184 km detour). Bad luck: On the track, we had our first flat tire! Not a big deal, we are used to change tire on every trip! To compensate for the missed boat cruise through the gorge, we flew over it by helicopter! An amazing experience especially because the small helicopter had no doors!
Next stop is Normanton, an important cattle and rodeo town and home to the historical Gulflander train. In the wetlands around the town, you can see a great number of Brolga and Sarus cranes.
Karumba, "Outback by the Sea": this is the only place in Queensland where you can see the sunset over the sea! The sunsets here are awesome and unmatched so we took a lot of fantastic pictures unfortunately all lost ...!
Karumba is also a great spot to easily observe thousands of wallabies in the wild: just go to the local Golf Club or football playground in the late afternoon … they love the green grass there.
Mount Isa QLD, the mining city
Mount Isa lies in the middle of the nowhere in the outback. The city was created because of the vast mineral deposits found in the area. Mount Isa Mines is one of the most productive single mines in world history, based on combined production of lead, silver, copper and zinc. The mine is really downtown or better, the town has been build around the mine! Mount Isa is also the Rodeo capital of Australia.
Plenty Highway, QLD-NT
Don't expect a highway ... The Plenty Highway is only partly sealed (actually only the last 97 km out of 497 km). This outback highway connects Queensland to the Northern Territory. The road quickly deteriorates to earth, sand, bulldust, rocks and potholes with frequent obstructions on the track. There are two starting points for this trip: from Mount Isa as we did, and, further south, from Boulia over the Donohue Highway.
From Mount Isa, the first leg is on the Diamantina Developmental Road (87 km) and then the Urandangi North Road to Urandangi (92 km). Urandangi is a remote and small outback town, established in 1885. The total permanent population is about 14 people, but there is a primary school, a pub, the post office and the police station. All around Urandangi there is nothing, only bush and kangas. Important for us, the camping grounds located on the banks of the Georgina River are free of charge. In the past, Urandangi was the ideal place for the drovers to stop as there was usually water in the Georgina River. Urandangi became the drovers' stop. It was common to see drovers with 2000 head of cattle on the stock route.
The Urandangi Tobermorey Rd makes the link from Urandangi to the Plenty Highway (96 km). This route can be rough and sandy especially the Queensland section. From this junction to the junction with the Stuart Highway, the Plenty Highway is 494 km long. Many areas continue to be prone to floods, particularly in the eastern parts of the highway, totally deforming and damaging the road. It took us three full days to complete the 846 km journey from Mount Isa to Alice Springs, an average speed of less than 50 kmh.
2
National Parks and Wilderness
National parks in Australia bear a uniqueness that we, coming from La Réunion, have had trouble to grasp.
The grades' difficulty for trails are quite different from Europe meaning that a grade 3 (moderate) or 4 (difficult) corresponds to about a T1/ T2 in CH i.e. sentiero di Gandria for 70+ ladies with their dogs. Most trails in the National Parks are sealed (yes indeed! sealed like a highway) or set up on nice metallic pathways.
We used to double the time stated on the sign posts in La Réunion when hiking, here we walk in half the time mentioned if not less.
We haven't transformed into better hikers though, it's just that the place and the people are definitely different.
Besides, a lot of "danger" and "prohibited" signs are placed everywhere within the nature areas… no longer natural.
Of course, you're not allowed to leave the pathway… You can sometimes wonder why there is a natural park when all the wildlife mentioned on the posters has disappeared years ago.
A shock for us as we're not really used to all that from where we have been and where we are coming from!
Phone and Internet
When visiting Namibia, there was a good mobile phone coverage around all towns and along all major highways. Here in Queensland and Northern Territory, the coverage stops abruptly at the town suburbs. In the rural areas, only the old fashioned UHF radio is working!
High-speed internet to upload pictures to our webpage? Well, that's wishful thinking. The only option is to connect our cell phone to the laptop when in a 4G network.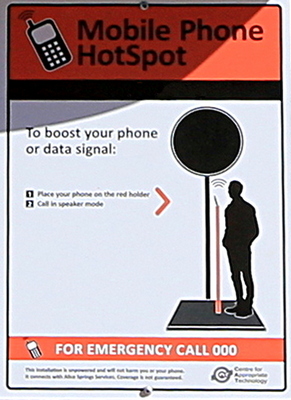 Big antenna and small cell phone!!
Mobile Phone HotSpot in Australia? What's that? It is a huge public parabolic antenna mostly located along highways, where you can stand in and put your mobile phone into the focus of the parabolic dish to boost your phone antenna and gain sufficient signal to make a call, if you're lucky!
And on top, you need to have the right mobile phone. Our cell phone has 15 frequencies but in rural Australia you need the uncommon 700 band (B28) ! Another cell phone to add to our collection ...
You can check all the worldwide mobile frequencies here:
https://www.frequencycheck.com/countries

Anyhow, in the Outback, don't dream about using your mobile phone … unless you have a satellite telephone!