Australia - August / September 2018
Adelaide – Perth – Broome (5 days)
The same stormy weather that prevented us from whale watching in Victor Harbor, also hindered us to get to Broome as planned. The plane took off 1 hour late in Adelaide and due to the strong headwinds, it needed to land in Kalgoorlie for an unscheduled refueling in order to reach Perth! Well, we missed our connecting flight to Broome and had to stay overnight in Perth … cold and rainy!
The next day, we finally arrived in Broome! What a change … absolutely cloudless, dry and warm.
Quick change of clothes, then a tour of Chinatown (the Old Broome town), hop on the Broome Explorer Bus to Cable Beach to go walking along the famous Cable Beach at sunset with our feet in the sand … and see the tourists on the camels!
On our second day in Broome, we have whale watching on our plan! This time, we'll try to see Humpback whales. Each year, over 35'000 Humpback whales, the world's largest population, are traveling along the coast of WA. During the months of June through September, humpback whales journey from the cold waters of Antarctica to Broome and reside in the warm, inviting waters, to mate, calve and nurse their young. The weather today is perfect for whale watching, the sky is clear, 29°C with light SW winds of 20 km/h.
Our catamaran left Gantheaume Point toward West for about 15 km before seeing the first tail slamming and the first breaching at 1500 m from our boat. We pointed gently to those animals, the boat is going in that direction. Well, it's not our day … the humpbacks don't like our presence … we can see tens of whales but always at great distance 600-800 m … as soon as we approach, they escape and they're really fast. The trip is almost over and the sun will be setting soon. Then, a big surprise: a juvenile humpback male comes to say Hello... It emerges near the catamaran and then stays on our side, at less than 5 m from the boat … so close… you can almost touch it… panic … where is the wide-angle lens? The male stays on our side for at least 15 minutes starring at us, blowing sea water at us! This is the highlight of the day … amazingly close … nearly too close to take a picture of the whole body!
The day after, we decide to take another whale watching cruise. After that first experience and with all the whales around, we don't want to miss out. Same weather, same sea and same behavior of the whales: either they swim away or they sleep in the warm water without action … no breaching no jumping … but a couple of juvenile males coming to play with us. We thought humpback whales were sporty whales!
On Sunday, we finish writing the program for our next month in WA. In the evening, direction Town Beach to observe the Staircase to the Moon. It's a natural phenomenon occurring from April to October every year at full moon. Spawned from the brilliant amber glow on the horizon of the rising moon as it's beam reflects across the recently exposed wet rippled tidal flats on ebb of massive spring tides (an exceptionally high and low tide occurring at the time of the full moon when the sun, moon and earth are approximately aligned and their gravitational pulls reinforce each other). The combination and timing of these 2 natural events creates an optical illusion of a widening golden staircase that leads all the way from the foreshore to the moon.
We're not alone, thousands of people are here to see the moonrise over the sea … at the beginning, it's a small red halo, then you can see the red moon with its reflections on the water, slowly it gets brighter and becomes orange and then yellow. It's an impressive phenomenon that can be observed from various points along the WA coastline.
Monday, the big day! For the 3rd time, we're renting a 4WD Hilux campervan: only 4 weeks this time. First thing, we check the campervan thoroughly – we know what we have to watch out for! What a shame, we have a van with a useless A/C… meaning lack of storage for us.
Once all clear, we check the daily diesel prices on https://petrolspy.com.au. The diesel prices are very variable in Australia and checking the actual daily prices can save you up to 30 ct per liter! After the fill-up, it's time for shopping ... Coles, Liquorland, etc. ... the rest of the afternoon is dedicated to cleaning the inside of the camper ... the "standard cleaning" is not sufficient for us ... we'll be living and sleeping there for a month! It must be proper! In the evening, everything is ready for our journey and we sleep for the last time in our beautiful B&B Ochre Moon.
Broome – Eighty Miles Beach – Port Hedland – Karratha (920 km and 7 days)
From Broome to Eighty Miles Beach, there are 374 boring kilometers, absolutely monotonous Australian landscape, bush left and right and a straight black strip in the middle. Difficult not to fall asleep while driving ... the Sandfire Roadhouse is the only stop on this road ... ugly ...
After a few more kilometers, we finally arrive at the 80 Miles Beach caravan park. It's a nice place with a huge, long white beach! Although this 80 miles long beach is open to 4WD, we prefer to walk along the shore ... it's a beautiful stroll, walking over billions of shells … the high tide left a considerable amount of shells behind, sometimes the shell cover is more than a span deep! We see white, yellow, orange, red, purple and blue shells … and to finish a stunning sunset over the tide flats, one of the best we' ve ever seen … but Karumba remains the best place for fantastic sunsets.
We leave early in the morning for Port Hedland: first stop at the Pardoo Roadhouse, a little bit more welcoming than the previous one with less expensive fuel. We don't care, we have two canisters of diesel at affordable price from Broome! Then, we cross a couple of large rivers to arrive in Port Hedland, after 254 km along the Great Northern Highway.
There are 3 main suburbs: Port Hedland, the historic town; South Hedland, the residential area and Wedgefield, the commercial area where all trucks meet and where you find the cheapest diesel (with big pumps for trucks delivering 80 liters per minute at lowest speed!). We will stay 3 nights here to admire this artificial settlement created exclusively for the salt and iron mining. It's an example of industrial exploitation in the middle of the desert. Everything is big here: the largest bulk loading port in the world, the longest trains in the world with 2.9 km, spectacular stockpile of salt and iron minerals, many huge ships (above 300 m length) leaving the port at high tide ... Rust is everywhere … the town is so sparse that you don't see it … just rusty industrial buildings and conveyor belts … a great industrial panorama … you understand well why "Mad Max" is an Australian born movie … Port Hedland was certainly its beginning! The sea is rusty, the land is rusty, the train, the cars, the ships, the roads, the houses … only one color rusty red. There is no clear boundary between township and industrial working area … indeed, we were nearly fined 2000 AUD for entering by 5 meters into a badly defined "non-trespassing area", just a small rusty and nearly unreadable sign!
The best view of the Rio Tinto Dampier Salt works is not from the Redbank Bridge as mentioned everywhere and recommended by the visitor center. It's either from the visitor's parking at Rio Tinto (you cannot take a visit there but you get a brochure, a pen and a free sample of their salt, which we'll use during our journey!) or from the unsealed side road just after the Rio Tinto main entrance. From this second point, you see the huge salt stockpile reflected and mirrored in an evaporation pond! … Magnifique! Powerful pumps transfer seawater at 1640 cubic meters/ minute into nine evaporation ponds panning 7800 hectares. In the final concentration pond the salt has increased from 17% to 90%. This brine is then pumped to several crystallization ponds over 1070 hectares. The harvesting capacity is 1500 tonnes per hour. The huge stockpiles of salts depicted on many pictures have a storage capacity of 750'000 tonnes! The major chemical products of salt are chlorine and caustic soda.
Despite the day temperatures of 30 degrees, the temperatures at night are quite frisky ... down to 8°C. We have to use our silk inlets, our sleeping bags, the linen and the duvet to sleep … and our merino's underwear. Still, we're far away from the -4°C we experienced in July 2017 in Yulara, NT.
The 244 km from Port Hedland to Karratha are across the usual flat and boring Australian landscape. We only stop at the nice Whim Creek Hotel, once the center of a thriving mining town. Between Whim Creek and Karratha, the landscape changes from the classical bush to savanna-like, a golden grassy plain similar to the ones we've seen in Namibia … but unfortunately, without the wild animals :-( …
After few hours' drive, we're in Karratha. Karratha was built in the early 1970s to support the mining industry: iron, salt and natural gas, due to the tremendous shortage of land in Dampier. Karratha is much nicer and cleaner than Port Hedland! Dampier on the contrary, could be the sister of Port Hedland, ugly and rusty with old apartment blocks squeezed between port and train station. From here, there is a constant procession of cargo ships to and from the port, carrying iron ore to China, natural gas to Japan, salt to all parts of the globe … and of course, the interminable trains transporting the iron ore from Tom Price.
We visit Deep Gorge (Murujuga NP): it's late afternoon and the light isn't very good to display the petroglyphs on the rocks. There are about 100'000 petroglyphs on the Burrup Peninsula, with approximately 10'000 present at Deep Gorge, dated from 30'000 years ago until 1860.
So, we make a second visit to Deep Gorge. With the high sun, we can better see the rock carvings on both side of the gorge, the more recent in lighter colors, mostly abraded and the more ancient often created by pecking or scoring and more weathered. Of the 10'000 petroglyphs estimated to be present in Deep Gorge, we've seen at least 5'000. We walked through the entire length of the gorge and then around it for several kms. During our walk, we saw many kangaroos and wallabies.
After the park, it's Hearsons Cove for a relaxing rest. Thereafter, a short visit to the ugly town of Dampier before going back to Karratha to refill our food supplies and discover that this arid, nearly desertic area is a "dry area" … in Australia, this means restrictions to buy alcohol! Only one purchase per person per day, no spirits, no …, no that … life is difficult for a tourist but we arranged to get some drinkable stuff.
To finish the day, we follow the locals to the biggest event of the year! Each year in August, Pilbara Iron, Rio Tinto and Woodside Petroleum sponsor one of the largest festivals in the North West: The FeNaClNG Festival (Fe for iron, NaCl for salt and NG for natural gas). There are a lot of freebies from the various sponsors of the festival to collect and we'll be using them during our journey … more kilograms to transport around the world – we're not getting lighter!
1
2
3
Karratha – Onslow – Bullara Station – Exmouth – Cape Range – Exmouth (1540 km and 10 days)
After several kilometers of bush alternated to savanna, we arrived at the turn-off of the Peedamulla Rd which leads us to Onslow. About 8-10 km before the intersection with the Onslow Rd, there is an amazing place … thousands if not ten thousands of big termite mounds on both sides of the road for many kilometers … it's truly impressive ... it's like the Chinese Wall.
The official termite mounds viewing area 10 km South of Onslow on the Onslow Rd is nothing compared to this surreal landscape … we think for a second what would happen if all those trillions of termites would converge toward us! … well, luckily nothing! We know these are harmless spinifex termites … grass feeders! The mounds are reaching heights of 6 m and are designed to maintain airflow and a constant temperature inside.
Before arriving in Onslow, we stop along one of the many salt ponds of the area … it looks beautiful with all the brine and the big salt crystals. Well, somebody decides to go further … the fine crust of salt breaks and … splosh … knee deep red mud … and getting out is not easy … sinking deeper and deeper … a total mess! … So, no pictures of the salt crystals today.
Onslow is a very small mining town that was created around huge salt production facilities and natural gas extraction sites. The big difference with Port Hedland, Karratha and Dampier is that the salt works here can easily be spotted from various well positioned lookouts. Onslow Salt has 87 km2 of operational ponds. The price for diesel is also very convenient here, at least 20 cents less than on the NW Coastal Hwy.
Our next stop is Bullara Station, that can be reached by a sealed road via Onslow Rd or by the much shorter Twitchin Rd. We decide to take the sandy Twitchin Rd, it's a 124 km stretch of dust but we save at least 10 liters diesel and 1 hour of travel. It was a wise decision, not only the red sand strip in the landscape is nicer than the black seal but we can see and experience remoteness and wilderness. Instead of a procession of caravans and road trains, we encounter only a few lonely cows and one big bull! In addition, we crossed a fantastic forest of ghost trees, at least 25 km wide.
If you camp overnight at Bullara Station, the rendez-vous is at 17:30 when John shares some exquisite damper he has baked in an iron pot on glowing embers. John traveled most of Australia for many years before stopping as a guest at Bullara Station in 2014 … guess what, he's still there and Bullara Station became his permanent address! We finished the nice evening with a drop of Yalumba Eau de Vie de Viognier! This bottle is in our luggage since February and traveled to Adelaide-Brisbane-Adelaide-Perth-Broome before being finally tasted!
Before leaving for Exmouth, we take the private Bullara Station gulf access road. It's 22km of sandy road across various types of vegetation: at the beginning it's bush, then grassy plain and then it gets stunning … on the left, red sand dunes like in the Kalahari and on the right, a hardened mud plain like the Etosha Pan … we feel like being back to Namibia … but without the wild animals.
In Exmouth, after checking the weather forecast for the next days, we decide to take immediately the whale shark swimming. The next days will be windy and the boats will unlikely leave the jetty.
This was a very very wise decision …
After an hour navigation, we have our "test" snorkeling … we don't take our camera with us for this "nothing-to-see" dive … Big mistake! Four manta rays are "flying" around us during the entire swim! We also see many humpbacks breaching and tailing all the time. We've seen more humpbacks during this navigation than on two day-tours of whale watching in Broome! Never-mind, we're here for the whale sharks … the spotting plane informs us that there are six whale sharks 10 miles further South. We're getting excited and nervous … then suddenly, we hear … go go go! Splash splash quickly into the ocean … and just in front of us a huge whale shark of around 6 meters length ... we swim together for a while then stop … the rules of the marine park don't allow for a longer time.
Back on board and still wet, another shark in sight! So, quickly zip the wet suit, fins and mask on … and go go go! The second swim with a second whale shark! Mesmerizing!!!
And again 20 minutes later: go go go for the third swim with the third whale shark! It's incredibly impressive to swim near such a huge fish … every movement is so delicate but you need to swim very carefully … a small impact with its tail may cause severe injury due to its huge mass. The 3 whale sharks we've seen today were approx. 6 m length but they can grow up to 18 m and live up to 100 years! The Ningaloo Reef is one of only few places in the world where whale sharks appear regularly in large numbers in near-shore waters. An experience of a lifetime … whale sharksome!!!
The day after, we learn that all tours were canceled until at least Sunday due to strong winds and swells. We were very lucky to have taken the last two places on the right day! And we encountered 3 whale sharks … usually they leave the Ningaloo Reef area end of July. Our three whale sharks were probably the last ones of the 2018 season! The ocean is very cold in this period of the year, between 18 to 20 °C. For our planned snorkeling in the next few days, we do need a wet suit. A day rental costs 20 AUD, an affordable price one would think … well, we found better: a second hand wet suit for 20 AUD! Now, we're ready to start ...
Saturday – direction Cape Range National Park to hike to the Mandu Mandu Gorge. An easy, well marked trail of 3km into a wide gorge and with a loop back along its rim (as usual in Australia it's graded level 4 … for no obvious reasons). The welcome in the gorge is given by a euro kangaroo (Macropus Robustus Erubescens) … and we see a couple of black-flanked rock wallabies (Petrogale Lateralis) on the return. The black-flanked rock wallaby is a shy and wary animal, that lives in the cracks and crevices throughout the Cape Range Peninsula. In the afternoon, we stop at Lakeside point, one of the three best snorkeling places in the Ningaloo Coast World Heritage Area. Undoubtedly, there is a lot of fish there. Big fishes of all shapes and colors. Some disappointment comes from the state of the reef … it looks like it has been bombed! Big difference compared to the reef in Nouvelle Calédonie! Even with the wetsuits, we have to stop the snorkeling after one hour … cold, too cold and the cold wind is really not helping … you don't feel at all the sun on your skin.
The day after, due to the strong wind we postpone our planned snorkeling at Oyster Stacks and visit the Yardie Creek Gorge instead. On the way, we stop our camper because a long snake crosses the road. We stay a bit there to reroute the traffic but the snake remains in the middle of the road. Not sure what happens when we left.
A lot of people come to Yardie Creek Gorge because you can cruise along the gorge by boat. We walk along the rim, it's a short stroll but you have a good view inside the gorge. No animals to spot … too many people here. So we decide to stop again at Mandu Mandu Gorge to see "our" colony of wallabies. They are there and this time 5 adults and a baby … wonderful! We stay for an hour to observe them in all their daily activities. Incredible!
In the evening, we see kangaroos and emus along the road, and all cars driving by at 80kmh and not seeing the animals. Tonight, we sleep at Mesa Campsite within the National Park.
Monday, we finally snorkel at Oyster Stacks. It looks somewhat better than Lakeside but still a lot of damaged corals, at least 50% broken and destroyed. Staghorn and brain corals, fishes of different size and colors but nothing exciting. This site can only be accessed at high and mid tide due to the fragility of the remaining corals, but nobody checks this and you see the results … most people are first time snorkeler, many kids and most of them snorkeling when the tide is already low … overall, a too big crowd for such a fragile ecosystem: it's like a road roller crushing the reef. We recall the fantastic shape of the Caledonian reef. The only damaged sites there (anyhow much less than in Australia) are in the heart of the tourist zone of Anse Vata and at Baie de Jinek, where 3'000 Australian tourists at a time come out from a huge cruise ship to snorkel in a 200m long coral garden!
Tonight, camping at North Kurrajong campsite. A lovely camp where Geoff, the volunteer welcomes you and where you're invited to a BYO sundowner with all the other campers!!! Within the lagoon, we saw a lonely humpback dolphin (Sousa Sahulensis), that prefers the shallow water and is recognizable by its small triangular dorsal fin.
Third snorkeling day, this time at Turquoise Bay. This is the best place in the Cape Range National Park, the reef is damaged but there are clear signs of recovery. A lot of new staghorn corals growing on the skeletons of older ones. A lot of fish and thanks to the health of the reef, we could see 3 green turtles and one sting ray! That closes our trip to Cape Range National Park.
Back to Exmouth to plan our next steps to Auckland (NZ) and then to Papeete (F).
4
Exmouth – Beasley River – Tom Price – Karijini NP (830 km and 6 days)
After 2 more days in Exmouth, we leave for Tom Price, a Rio Tinto mining town near the Karijini National Park. Now that we know that mining towns are often "dry areas", we fill our camper with good stuff before leaving. Last stop is at the cheapest fuel station in Exmouth to avoid the rip-off roadhouses and get to Tom Price with our long range tank of 180 liters and two additional canisters of diesel at affordable price. (https://petrolspy.com.au)
The usual boring flat bush is keeping us asleep over the next 500 km while driving … the only highlights being the many patches of flowers along the road signaling that spring is here! Western Australia is home to 12'000 species of wildflowers with 60% of these found nowhere else.
After an over-night stay at Beasley River Rest Area, we drive another two hours to get to Tom Price. As it's early in the day, we drive to Mt. Nameless by a steep 4wd road. From the top, you have a great view over the mining sites with the endless trains arriving from Dampier or Cape Lambert to be loaded with Rio Tinto iron ore. Washing, cleaning, refueling and shopping make up the rest of the day.
Tom Price was built in 1965 and is named after Thomas Price who was instrumental in convincing the WA government to listen to Rio Tinto about the abundance of iron ore in the state. Indeed, 30% of the worldwide iron reserves are here in Pilbara!
So, we hop on a tour around the Tom Price mine operations … everything has gigantic dimensions! The dump trucks are huge, with a carrying capacity of 250 t, and the newer ones are without a driver ... remote controlled from Perth at 1500km distance! Each truck has 4500 l diesel for the day operations, the iron ore stockpiles are like mountains. Forty km of conveyor belts load the 236 wagons of a train of 2.9 km length, each wagon transporting 120 t of iron ore for a total of 28'000 t per train load. Five daily trains start from Tom Price, the total Rio Tinto fleet in Pilbara consisting of 200 locomotives and 10'500 wagons! Rio Tinto is operating 9 iron ore mines in Pilbara worth billions of dollars…
Now it's time for true adventure! En route to Karijini National Park, 100 km from Tom Price. It's about exploring ancient deep gorges and paddling through waterways. The red layered cliffs that line the spectacular gorges are amongst the oldest rock formations in the world, about 2.5 billion years old.
We start with the simple walk in the Upper Weano Gorge because there's a bus full of "adventurers" clogging the Hancock Gorge. Thereafter, we continue into the Lower Weano Gorge with the first pond crossing knee deep. Then, the fun starts with a second pond to be crossed through the water. Finally, the real gorge, narrow and dark funneled to the large Handrail Pool. A nice swimming spot but no swim for us, it's really too cold. We cross this pool, wadding along the waterway until it gets very narrow and shoulder deep … that's the end of the trail. During the way back, a few awkwardly plunges in the water trying to avoid to get wet… no luck.
Back to the road, we visit the Oxer's Lookout. An amazing view of 4 gorges: Red, Weano, Joffre and Hancock Gorge. That's it for today.
The day after, the alarm is waking us up early! We want to avoid the crowd in the Hancock Gorge!
So, we arrive at the Weano recreation carpark at 9.00 and it's nearly empty with only 3 cars.
We descend into the gorge full of expectations … we've seen so many stunning pictures of this gorge. After climbing down a ladder, you walk deep into the gorge, climbing along steep and slippery walls to avoid the deep and cold water below in the gorge. The trail leads you to a first pond that you need to cross knee deep then through a narrow canyon filled with deep water – so you need to try to grip the "polished iron" of the gorge walls. You then arrive to a nice amphitheater and onwards through the Spider Walk, a one meter large but many meters deep canyon. And finally, the emerald green waters of Kermits Pool!
This trail, although short, is the most exciting trail in the park! Truly sensational...
After 2 hours of fun, we're not tired. So in the afternoon, we decide to hike also through the Knox Gorge. It's about 1.15 h return (much less than the 3 Australian hours stated on the signpost). Most of the time you're alone here as there are no swimming pools here for the fun-loving people. The end of this gorge is very spectacular with a deep view into Red Gorge. The walk is not as exciting as the Hancock but it's at least as spectacular and worth the detour and you don't get wet.
Last day in Karijini National Park, on our way to the Dales recreation area. Most of the tourists are here as the route is sealed and the trails are easier compared to Weano: really strolling in a city park! We take the Dales Gorge walk from Circular Pool to Fern Pool in order to walk with the sun on our back. Well, "the most beautiful spots in the park" are full of people and the scene is like in a water-park including those guys with a huge inflatable pineapple in the middle of the pool. The place is supposed to be an aboriginal heritage with significant cultural place and people are asked to respect the area and be quiet!
In Ticino and La Réunion our walking times were 1.5x longer than indicated, in New Zealand about right and in Australia we're 2-3x faster than indicated! We have certainly not improved our muscles as the country here is totally flat and we didn't trek seriously since New Zealand. The signs in the parks are totally ridiculous with warnings for everything and exaggeratedly long walking times. We did our planned hikes in much less time than scheduled and we're ready to return to Port Hedland two days ahead of time.
5
6
Karijini NP – Port Hedland – 80 Miles Beach – Cygnet Bay – James Price Point – Broome (1680 km and 6 days)
We know now quite well Port Hedland and 80 Miles Beach, so nothing to report beside that the Dôme Café in Port Hedland is the only place with a reliable and fast Wi-Fi between Broome and Exmouth. We stayed there for one dinner and one breakfast to arrange our next steps … no choice! To note that also Westpac Bank and Froth Brewery in Exmouth have an acceptable Wi-Fi … otherwise total Wi-Fi disaster! Telstra 4G is the only alternative where and when available. Welcome back to the prehistory of internet!
We're now 3 days ahead of our original schedule when arriving in Broome, so change of plans! We've mastered this art by now… So, we decide to explore the Dampier Peninsula. However, the day of our travel to Cygnet Bay, the Cape Leveque Rd is being closed from 10.00 to 16.00 to allow fighting against bushfire in the Coulomb Point Reserve. Thus, we have to leave early in the morning and travel non-stop along the 90 km of sandy road being closed to all traffic. We're well on time when we arrive in Cygnet Bay at around 10.00 ...
The discovery of the Pinctada Maxima, the largest pearl shell in the world, led to the establishment of Broome's pearling industry. In 1900-1910, Broome produced 80% of the world's Mother of Pearl shell. The plastic button in the 1950s sealed the fate of this industry. The industry was however revitalized with the advent of the cultured pearl and by the 1970s, Broome was producing 60-70% of the world's large cultured pearls. The tides of up to 11 meters combined with the clean and warm waters, provide perfect conditions for the world's finest cultured pearls. Cygnet Bay is the oldest pearl farm, operating since 1946, and still leading the industry with some of the largest and most beautiful pearls in the world. The record pearl is 22.24mm in diameter and worth over 1 million AUD if auctioned! Despite being a pearl farm with a gallery worth millions of AUD, the farm is made up of a shack, a couple of sheds and a very basic bush-camp for the guests and this at the end of a bumpy and sandy track.
In the evening, our headlamps are showing hundreds of shining points in the ground around our camper … fireflies? Nope, hundreds of horrible spiders running around and reflecting our lights with their 8 eyes! So scary ...
This morning, there's a strange noise on the door of our camper … like somebody knocking at the window … 3 fairy wrens are flying repeatedly against our window, scratching and pecking the glass. It's so funny … lol.
We spend the day at the magnificent Cape Leveque: amazing white beaches stretching for kilometers on the Western side delimited by red cliffs and by dark deeply eroded limestone outcrops on the Eastern beach … on top of this fantastic seascape, many humpbacks in the deep blue waters. We walk from the West beach to the East beach and then South until the last bay and back again… simply stunning and untouched… alone...
On our way back to Broome, we stop for the night at James Price Point. It's a wise decision, it's really beautiful here … the last night with the camper alongside this wild and uninhabited coast. During the night, we have to check a couple of times if we're at sufficient distance from the ocean … the high tide is very strong here. Indeed, the sea level increased by 8 m and the waves were roaring and splashing quite near but still on safe distance. Freedom camping by the sea only by ourselves.
Back in Broome, our first night in a real bed after 29 days in a 4WD bush-camper but before that, we go to observe again the Staircase to the Moon. This time from a much better viewing point: not from the popular Town Beach but from the terrace of the Mangrove Hotel, which is about 30m above sea level. A spectacular scene of the amber glow of the full moon reflecting across the rippled tidal flats ... an another unforgettable evening. It's such a stunning experience that we decide to repeat it the day after! Wow … totally different colors!
The remaining days in Broome are largely dedicated to internet surfing in order to prepare our next travel leg as we finally have a good Wi-Fi and our departure for Papeete is not far away, so we urgently need to define our next stops!
Broome – Brisbane – Hervey Bay – Brisbane (620 km and 12 days)
After a couple of days in our usual apartment in Fortitude Valley in Brisbane, we drive to Mooloolaba on the Sunshine Coast. In December, we had a very nice beach vacation over here. This time, we're back for our dental check-up! Sabrina is our house dentist … she's fantastic! And now, you've got a big TV screen on the ceiling to relax while she's cleaning your teeth!
After Mooloolaba, en route to Hervey Bay. Every year in June-July, humpbacks start their way North, making Hervey Bay one of the best places on the East Coast to watch them. This season, there is also one Southern right whale in the area! Normally they don't travel as far north as humpbacks. Is it the ultimate possibility for us to finally have a close encounter with a Southern Right? The weather is perfect for our full day whale watch along the coast of Fraser Island, the biggest sand-island in the world we visited back in December.
Indeed, it's a good day … We see over 30 humpbacks breaching, tail slapping, spy-hopping and flippering … many mummies with their calf and several pods of juvenile males … and the humpbacks here are so active and sporty, not logging all the time like in Broome! Another wonderful day spent watching those incredible mammals.
7
Back to Brisbane for our sixth and last time!
After 9 months, we move out from our storage in Fortitude Valley. It was very helpful to have this primary storage in Brisbane for our belongings, in addition to Auckland and Nouméa. To a certain extent, this storage was our home in the last year. This time, we don't plan to return to Australia. After a short stop in Auckland, we move to French Polynesia ...
Bye bye to our cozy apartment in Fortitude Valley, where we've been 4 out of our 6 stays in Brisbane !!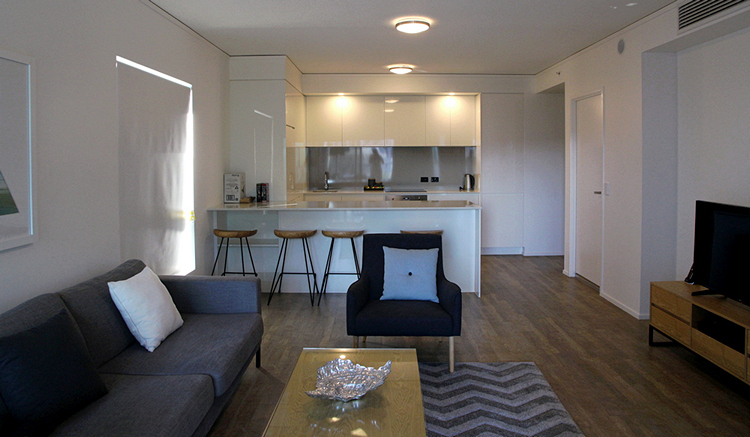 Belise Apartment in Fortitude Valley